Are you one of those people that are responsible for the Automated External Defibrillators (AEDs) in your business or publicly used building including schools, clinics and churches? Then keep on reading!
An AED, as you may know, is used to help those experiencing sudden cardiac arrest. It is easy-to-use with clear cut instructions that you can follow step by step. It analyzes the victims heart's rhythm and, if necessary, deliver an electrical shock or defibrillation. In most cases this can greatly increase the person's chance at survival by re-establishing a regular heart rhythm. AEDs are accessible for anyone, even without medical training. It is a smart option for any emergency situation until first responders arrive.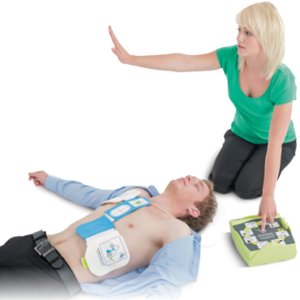 Checking AEDs
Checkups on our AED units are just as easy as using them and don't require a lot of maintenance. If it has a screen, there will be a status indicator or icons on the display that will show an alert when a problem is found. This screen can usually be found in front of the AED device and might require you to open the lid. You might have to turn on the AED to listen to the instructions. Switching on is completely safe, it will always give you a fair warning before it gives a shock. If you hear instructions to help the victim, you can switch the device off by holding the on / off button again. If you don't hear an error message, the AED is ready to be used and a led light or status indicator should light up again.
Electrodes & Batteries
After this, it is also important to check the pads (electrodes). Most of them have an expiration date, so it's wise to replace these on time. The same goes for AED batteries, which usually have a date marked on the outside of the battery. You might also want to make sure you have children's electrodes. Most batteries have a shelf-life of five years and electrodes/pads two years. Be sure to check the article description on our AED's, and the expiry date on the packaging. Do you need to replace your electrodes or batteries? We might just have what you need at our accessories section.
A lot of AEDs have an internal mechanism that performs regular selftests, like our LIFEPAK CR Plus. During one of these tests, either a status indicator light or a voice prompt will let you know there is a problem. If there are no problems you can usually see a green checkmark or the word OK on the screen or a flashing light.
It would also be smart to check the cabinet, accessory equipment, first aid kit and write down the date of maintenance with any notes.
Are you interested in owning your own AED? Be sure to check the variety of AED devices we have for sale in our webshop. We make sure they are ready for use by one of our specialised service engineers.
Not sure which AED to buy? Please be sure to contact us. We can advise you what the best option might be for your budget, desired features and situation.
Instruction Videos
For your convenience, we have added several instruction videos of different AED's that we have on sale.
Physio-Control Lifepak 1000 (Find it here!)

Physio-Control Lifepak CR Plus (Find it here!)

Zoll AED Plus (Find it here!)