Air ambulance is no luxury for Northern Ireland
According to an intensive care consultant; an air ambulance is a necessity and absolutely not a luxury. Dr John Hinds of Craigavon Area Hospital said that an emergency medical helicopter is "essential" and should be introduced in Northern Ireland.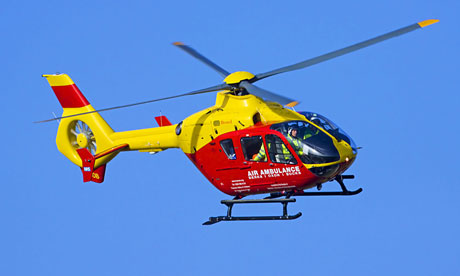 Hinds said that every other United Kingdom trauma network has an air ambulance, which provides enhanced care at the scene and safe transfer to a trauma centre. Hinds thinks it would be a game changer in terms of trauma provision in Ireland. The absence of an emergency helicopter was highlighted during the G8 summit in Enniskillen, County Fermanagh, in 2013, when organisers had to rent an air ambulance from Scotland. During last month's Northwest 200 motorbike races in County Antrim, a helicopter was dispatched from County Sligo to attend a serious accident.
Reducing the costs
In the past Northern Ireland had a problematic experience with agreements about how it could be delivered across the region. Dr Hinds, a lecturer in Trauma Science, said he finds it "hugely frustrating to return home to what is essentially a third world system". "People who have worked in countries which have an air ambulance can see how game changing it is for victims of major trauma", he fills in.
An air ambulance is not a luxury, it is essential and it would be cost effective.
One of the problems is that Northern Ireland is a rural population, so the cut-off criteria for most major trauma networks is the access within 45 minutes. The air ambulance cover in the rest of the United Kingdom is roughly one air ambulance to 1.5m of population. So Northern Ireland is well over that. Also some of the air ambulance services in England have reported cost savings up to 20 milion in the care of trauma patients. Source: BBC.com